Okay, it's official: I'm joining The Atlas Movement, Teacher Certification Program with the amazing Steve Atlas. Two years of learning, playing, growing, developing, exchanging, experimenting and understanding what movement means. In addition to that, Coach Atlas will be mentoring me on my path to the one arm handstand.L
Man, I'm excited!
So let's just go! These weekly "Handstand-Protocol"-Posts will serve as documentation of everything I learn in regards to handstand and handbalancing. Sort of a diary. Only cooler. First and foremost this is a way for me to process what I learn. But it's also a great way to be held accountable. So if you notice that that I'm slacking off: Feel free to drop me a friendly reminder to keep going.
Apart from that, these posts are also a chance for me to give something back to the global community. To everyone who wants to turn things upside down and experience life on their hands. To everyone who's willing to put in the work, the sweat and the tears. Whoever you are, I hope you find something of value here.
Will it be easy?
At the moment im totally excited. And I will use that excitement to go into this with fire in my heart.
But there will also be hard times. Times when I will feel tired. When I will feel pain. When I will cry and think about quitting. I'm looking forward to those times. Because like movement, life is motion. Up and down. Left and right. Always changing. And those "heavy" times are part of it. To me they mean that I'm doing it right. They mean that I live a life worth living.
What I dread instead is a life without them. A life without grit.
A life where the days just drag on, being "okay".
So no, I don't think it will be easy.
And that is just great!
A Message from my Father
My father wrote these words, when I published that I would join this program:

I love you so much my beautiful son.
Reading them made me realize one very important thing:
I do feel loved. I really do.
And, man, starting this journey dance with such a realization gives me joy. Not strength, but joy. And what's better than that, huh? Right! Nothing! So, let's go!
Training-Routine
We're still working on creating a weekly routine
We're still working on creating a weekly routine
We're still working on creating a weekly routine
We're still working on creating a weekly routine
We're still working on creating a weekly routine
We're still working on creating a weekly routine
We're still working on creating a weekly routine
Note: Coach Atlas and I have yet to develop a concrete routine for me to work with, since there are other things to focus on first. Things like the right mindset or the kinetic chain.
Body-State
Shoulder: I'm doing two sessions per day. One during my 2-hour lunch break and one in the afternoon at the gym. I was a bit worried if my shoulder would be able to take this, but by the end of this week I can happily say: It can!
Lower Back: My lower back is troubling me for a long while now. Especially after long handbalancing sets. I think as a result of my job as a programer my core is pretty weak. So in between sets I put in some exercises to strenghten this area. While this takes up precious time, I think it's a good investment.
Here comes the crazy part: On saturday I decided to cut down on my basic handstand sets in favor of weight-shifting sets. After that my back pain just vanished. Wtf? I was standing there, mind blown, moving my back this way and that way and feeling no pain. Wow!
In hindsight I think I can understand what happened. Moving your legs from left to right, while in handstand? That's pretty similar to Dumbbell Side Bends. And those are a pretty nice core exercise. Anyway. No back pain? I'll take it!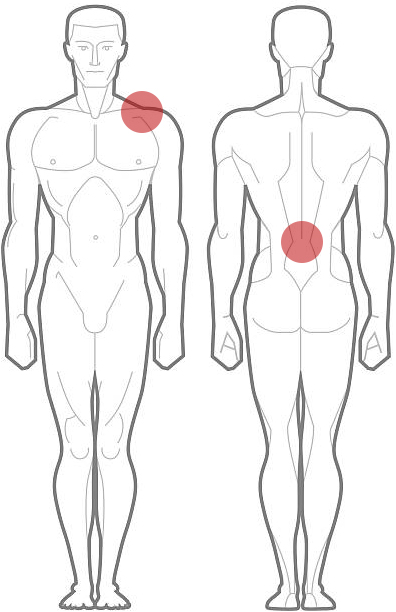 Nutrition
Overall I eat pretty clean. But not very focused. And with such a program in front of me, I think a little focus would be of great help. So I'm extremely happy that my good friend and brother Bünjamin will stand by my side on this journey. He's a professional holistic health coach and will do his best to support me, when it comes to nutrition and diet. I'm definitely looking forward to learn from him.
Thoughts & Insights
This first week was quite and adventure already. I did not expect to learn so much by this point. What stood out to me was the concept of the kinetic chain and what that actually means for my handstands. I realized one thing quite clearly: During my normal handstands I'm standing extremely solid. Like a Statue. And that's awesome! But once I start with my weight-shifting exercises I loose a lot of that stability. Tiny movements everywhere and it's no wonder, that the follow-up exercises are not as solid.
Another thing became clear as well:
My sets are too fast in general.
Becoming aware of these things felt amazing. Like opening a door that was there all along. I just wasn't aware of it. With this in mind I focused each and every of my sets on slowness and keeping the stability of my kinetic chain intact. Doing this was suprisingly exciting and I felt very connected with my body. Also it felt like progress. And I like that.
The Price of an Adventure
From time to time I like to have what I call "Adventure-Days". Days when I do slightly stupid things, that don't make sense, but still feel right. That's the best way I can describe it.
I don't plan those days, they just happen. And when they happen I try to welcome them instead of sticking to my carefully laid out plans. Why? Because if you plan too much, you'll miss the surprises that life has to offer. Try it some time. Simply let go and trust the universe for a while. I find a lot if peace in that.
How does that relate to handstand and handbalancing?
Well, as you probably saw in the training routine: Thursday was such a day. I went 12 hours by train just to see someone who is important to me for a few hours. And while I think it was quite an amazing "Adventure-Day", I had to face the consequences afterwards: an energy-problem.
It's obviously impossible do my workout on such a day. Okay. I knew that. But on the next day working out was also barely possible. I just couldn't keep my concentration up and my handstand routines where sloppy. At some point I just stopped and thought: "Well, this doesn't make much sense."
My personal takeaway is this: Saying "No" to things that cost huge amounts of energy is part of the training. Heavy drinking, spending sleepless nights on the computer or driving 12 hours by train. Those things simply take away too much in terms of energy.
50 Sets a Day. Wait. What?!
Another thing hit me pretty hard this first week:
I think I have yet to learn what it actually means to really work on a skill like the one arm handstand.
Coach Atlas told me that when he was working on the one arm handstand he did about 50 sets a day. On each side. I already knew from training with other great handbalancers like Yuval Ayalon, just how many hours these guys put in. But 50 sets a day? Hm. Despite just "sounding like a lot", it was hard to grasp what that number actually means. So I just tried it out. And get this: With warmup, mobilization and stretching I could only complete 20 sets or so. (But to be fair I did some weight lifting and some exercises to strenghten my core as well. Plus: I didn't ask Coach Atlas what a "Set"actually is for him.)
What was interesting to me was that the physical aspect wasn't the biggest challenge, but time. 
I'm getting the feeling that really mastering this skill does not mean to simply find time in your life to work on it, but to completely build your life around it. And that automatically means that other things I enjoy doing will get much less attention. (Sorry Guitar. Sorry Videogames.)

Anyway, I'm on fire. I feel joy and excitement and new power!
And I can feel progress, even if I'm just a few days into this.
I'm terribly, terribly curious where this path will lead me.
Results
A very good first week I think! Even though I did not spend a lot of time one one hand, I feel I could improve a lot when it comes to control and understanding the science behind it. Nice!
Basic Positions
I've got the three basic positions down quite good, I think. They feel and look very controlled and solid. So by the end of the week I cut down on those sets.
Straddle
Same here. My straddles look and feel very solid to me and I notice very little movement in my kinetic chain. So I also cut down on those sets.
Weight-Shifting
Things got interesting here: I noticed much less kinetic stabilty in my weight-shifts. So I increased sets. By the end of the week they felt much more solid.
One Arm (5 Fingers / 1 Finger)
It's pretty clear: I've got much better control on my right hand. Also: I can only achieve this stability, when my shifting beforehand was 100% solid.
One Arm Handstand
Not a very good execution and an embarrassing exit. To be honest, I felt very tiered and this was pretty much my first attempt this week.